Butyl waterproof flashing sealant seal tape
Butyl tape, butyl sealant tape, butyl seal, butyl rubber tape, butyl mastic, butyl flashing tape, butyl waterproof tape, leak stopper, they are all the same thing. So, we call it butyl waterproof flashing sealant seal tape.
Butyl waterproof flashing sealant seal tape is made of pure metal aluminum foil and butyl rubber and releasing liner. For backing material, its back is reinforced with 140 g high fine non-woven fabric, its surface is embossed with checkered or diamond-shaped pattern and coated with antioxidant, these make butyl tape backing material soft, strong, and weather resistance highly improved. The glue of butyl rubber, sometimes just called "butyl", is a synthetic rubber, a copolymer of isobutylene with isoprene. Butyl rubber has excellent impermeability to gas diffusion, and the long polyisobutylene segments of its polymer chains give it good flex properties. All these guarantee that our butyl sealant tape no curing for long life, excellent cohesiveness, waterproof, perfect sealing, and tracking performance.
Butyl flashing tape is widely used for waterproof purpose, like repairing leaks on roof, tent, window, awning, down spouts (drainpipe), boats, personal water-crafts, mobile homes, pipeline, wall, door, air ducts etc.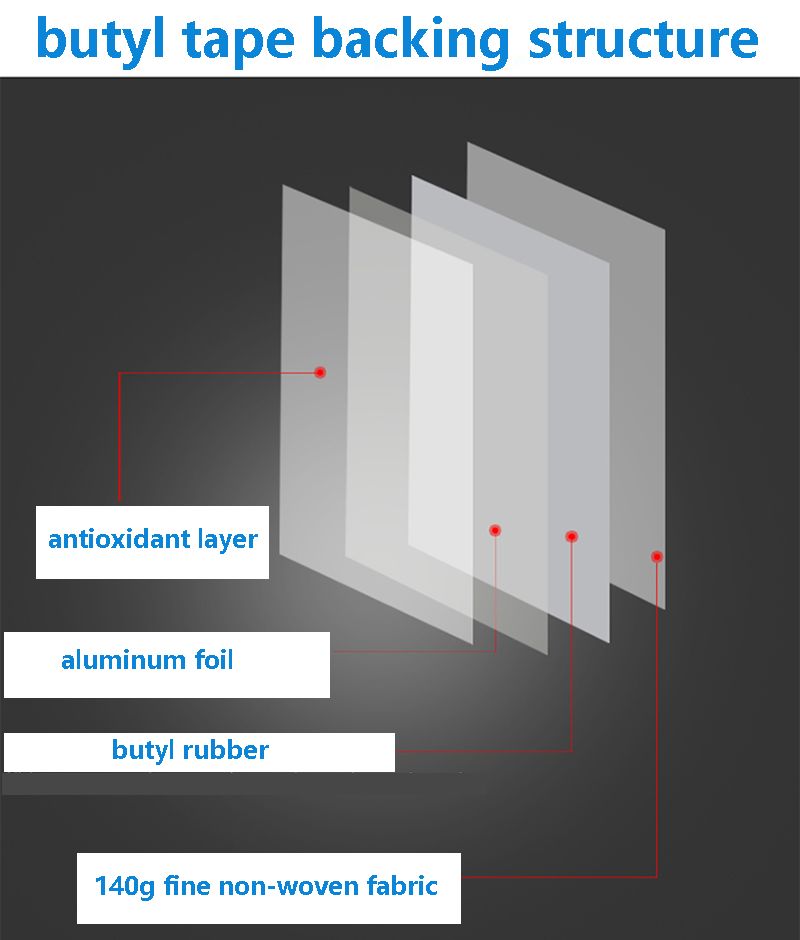 Butyl waterproof flashing sealant seal tape features:
-40℃ no dry crack / 120℃ no flow, no replacement
Conforms well to irregular surfaces
High viscosity
Good thermal insulation
High chemical resistance, weather resistance, aging resistance and corrosion resistance
Eco-friendly
Construction temperature range -15 ℃~55 ℃, open flame is not needed, easy and convenient
Long life
Butyl waterproof flashing sealant seal tape product details:
Log roll effective width: 1.025 m
Thickness: 0.6 mm~3.0 mm
Log roll length: 50 m~300 m
Backing surface color: silver, checkered pattern, diamond-shaped pattern or custom pattern
Glue color: grey, white
Releasing liner color: dark grey, white
Packaging: single roll shrinking with 2 round custom label
Shipping Port: