PVC Wire Tape (No. MK21101)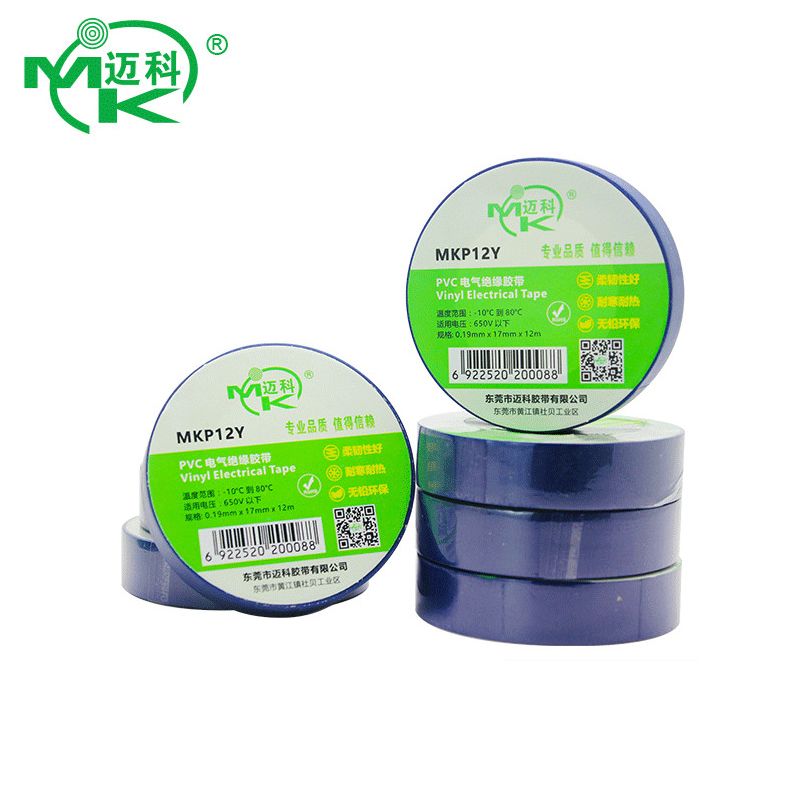 PVC wire tape is widely used for electrically insulate joints and splices in wires and cables. Suitable for use at not more than 600 V and at not more than 80°C (176°F) or an equivalent condition.
Physical Properties:
Material:   A matte SPVC film coated with a special rubber-based adhesive
Total Thickness:   7.0 mils (0.180 mm±10%)
Tensile Strength:   14 lbs./in. (25.5 N/10 mm)
Elongation at Break:   150%
Adhesion to Steel:   16 oz./in. (1.8 N/10 mm)
Adhesion to backing:   16 oz./in. (1.8 N/10 mm)
Dielectric Strength:   40 KV/mm
***The physical and performance properties shown are averages obtained from tests recommended by ASTM D-1000. The physical and performance properties shown are averages and should not used to be specification purpose. ***
Features:
Color:   Black/ White/ Red/ Blue/ Pink/ Clear/ Green/ Purple/ Yellow/Green, etc.
Log roll size:   1250 mm x (5 y to 35 m)
Finished roll packaging choices:   1 roll/shrink or custom
High elongation
Easy tear
Excellent conformability
Outstanding adhesion
UL listed
Storage:
Shelf life recommended one year from the date of dispatch in the moderate temperature and humidity environment
Deal:
OEM available
Lead time:   4 weeks after deposit
MOQ:   20 000 rolls
Shipping Port:   Shenzhen, China
FAQ:
Question 1. Are you factory of black pvc insulation tape?
Answer: Yes, we are professional manufacturer with long history.
Question 2: How does your factory control the quality of pvc tape 19mm?
Answer: We have been implementing a strict and complete quality control system, which ensures that
each product can meet customers' quality requirements.
Question 3: Can our private logo/label be printed on the packaging?
Answer: Yes, your logo/label can be printed on the packaging upon your authorization, we give OEM
service for many years.
Question 4: Sample free?
Answer: Yes, we can send free samples if you need.
***Send inquiry for pvc wire tape now. Or, you can talk to me on WhatsApp showed below.***